Wheat
A light brown g

rain, oval in shape with a deep groove down one side

Wheat is a grass with a very swollen grain that when ground, produces a flour that is particularly suitable for the production of bread and biscuits. It is the world's most important crop.
Today's wheat crops can trace their origin back over 10,000 years to the einkorn and emmer wheats that grew wild in the middle east.

The UK currently produces around 15 million tonnes of wheat each year and around 25% of this is exported to countries around the world.

About 40% of the

UK

crop is used in animal feed rations going to chickens, cows and pigs.
Wheat is not very high in protein (10%).

Wheat which is of low quality and thus unsuitable for milling, can be fed to domestic animals. It will obviously be worth less than good quality wheat, with its exact value dependent on the extent of the damage.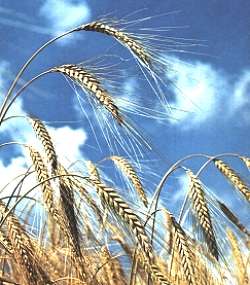 ---
Wheat typical analysis on a dry matter basis (%) :
Protein

Oil

Fibre

Ash

Metabolisable energy (ME)

(mega joules/kg dry matter)

Dry Matter (%)

10

1

3

2

13.5

89
---
Other requirements
UK origin materials to be accompanied by a Post-Harvest Pesticide Declaration.
Will comply with relevant EU and UK legislation.
---
Feeding wheat to ruminants
Beef cattle: Feeding wheat to ruminants requires some caution as wheat tends to be more apt than other cereal grains to cause acute indigestion in animals which are unadapted to it.

The primary problem appears to be the high gluten content of wheat which in the rumen can result in a "pasty" consistency to the rumen contents and reduced rumen motility.

Whole wheat may be efficiently used by cattle, but it's nutritive value is improved by some form of processing.

It is generally conceded that its feeding value is optimized by dry-rolling, coarse grinding or steam-rolling to produce a thick flake. Hence rolled wheat is a good idea.

Fine grinding of wheat generally reduces the feed intake and is likely to cause acidosis and/or bloat. Never-the-less, when available for feed, it can be substituted equally for corn on the basis of TDN to a maximum of 25% of dry matter intake for beef.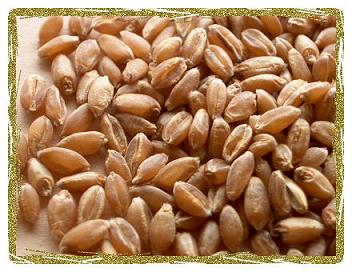 Storage / Processing
Wheat must be stored under dry conditions, in a clean dry space or in purpose built bin.

Material to have been stored in compliance with DEFRA code of practice for the control of salmonella, and stores must comply with UFAS Compound Feeds regulations.
Haulage
Hauliers will comply with the AIC TASCC Code of Practice for Road Haulage.